Crowns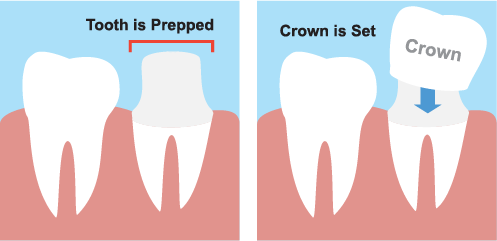 Crowns are tooth-shaped caps that are fitted over any remaining healthy tooth structure (or a dental implant) to restore the tooth back to its beautiful, functioning condition. Crowns are made from durable and natural-looking tooth colored porcelain to mimic your natural teeth in form and function.
You may require a dental crown if you have a:
Broken tooth
Badly decayed tooth
Missing tooth
Root canal
If you can relate to any of the above, come see us at Vista Ridge Family Dentistry to find out if the royal treatment with a crown is right for your smile.
Bridges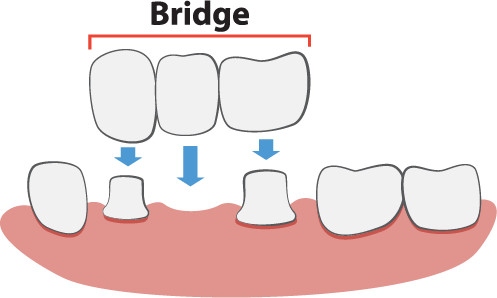 Bridges consist of one or more fabricated replacement teeth, usually anchored to surrounding teeth with the help of dental crowns. Not only do bridges fill the gap and bring your smile back to its complete functioning condition, they also rebalance the bite forces in your mouth that may become compromised when missing teeth are left missing.
There are several different types of bridges, including:
Single tooth bridge
Multiple tooth bridge
Fixed bridge secured with crowns on either side
Removable bridge secured with metal clasps
Implant supported bridge
If you would like to bring health and balance to your smile, come see us at Vista Ridge Family Dentistry today to discuss your bridge options.
Dentures
If you're missing most or all of your natural teeth, or are living with dentures that don't stay in place, we would love to help you rediscover the comfort and joy of a fully secured smile. Our dentures are precision-crafted with advanced technology from strong and natural-looking porcelain to mimic your natural teeth in form and function.We have several options for dentures, including:
Complete dentures
Partial dentures
If you want to enjoy your favorite foods, speak and smile with confidence, and forget about your struggles with missing teeth, come see us at Vista Ridge Family Dentistry today to discuss your denture options.
Full Mouth Reconstruction
If your mouth has been devastated by decay, gum disease, infection, or traumatic injury, let our compassionate dental team in Cedar Park be the one to bring new hope to your smile. Just as every smile is as unique as the person who wears it, every full mouth reconstruction is a little different.
Your individual treatment plan will depend on a number of factors, including:
Current state of oral health
Existing restorations
Level of infection
Bone health & density
Facial shape & contour
Goals & budget
Contact your Cedar Park reconstructive dentist today to find out how we can give your smile a second chance with full mouth reconstruction.
Root Canals
At Vista Ridge Family Dentistry, we know root canals have earned a bad reputation over the years, but we want to assure you that a modern root canal is nothing to fear. In fact, root canals are a fairly routine and painless procedure for our skilled and compassionate doctors. It's leaving an infected tooth untreated that causes the most pain and suffering.
A root canal procedure involves:
Local anesthetic to ensure you don't feel a thing
Removal of the infection within the tooth root or chamber
Sealing of the chamber to prevent future infection
A crown to restore the tooth in form & function
If you are suffering from an infected tooth and are in need of a root canal, come see our Cedar Park dental team today. We promise to take the very best care of you in restoring your smile.
Come see us!
If you're living with cracked, broken, decayed or missing teeth, we would love to help you restore your smile in form and function. Contact your Cedar Park dentist, Dr. Max Kerr, Dr. Brandon Hedgecock, or Dr. Supriya Patel at Vista Ridge Family Dentistry today by calling (512) 253-8840 or schedule an appointment online!