Consequences of Missing Teeth
When missing teeth are allowed to remain missing, the consequences can be devastating, but dental implants can help prevent:
Surrounding teeth begin to shift & rotate
Underlying jawbone begins to deteriorate without the supporting tooth root
Bite becomes compromised which can cause TMJ problems
Eating a healthy diet becomes difficult
Speech pattern may be effected
Confidence suffers
When left missing long enough, the jawbone may deteriorate to the point where dental implants are no longer an option. That's why it's important to consider dental implants before it's too late.
What are dental implants?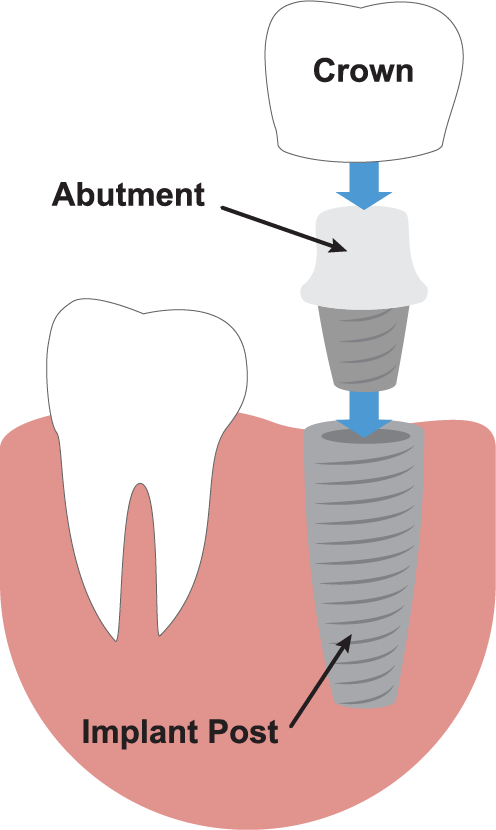 Dental implants are small titanium posts or screws that are surgically inserted into the gums and into the jawbone. Given some time to heal, they actually become fused with the jawbone, thus becoming a fully integrated part of your oral health system, functioning just like your natural tooth root would. Once healed we can fit you with a brand new crown to replace a single missing tooth, a bridge to replace multiple missing teeth, or a new set of implant supported dentures for a brand new, fully secured smile.
Mini Implants
If you have already experienced some jawbone deterioration and are not a candidate for standard implants, you may be a good candidate for mini implants. Mini implants require less jawbone density for placement because they are smaller in size, and generally cost less than standard implants.
All-on-4®
The All-on-4® implant denture system is ideal for patients missing most or all of their natural teeth. All-on-4® uses the minimum number of implants (4) to support the maximum number of teeth (a full arch). The back implants are placed at an angle, allowing them provide maximum support with fewer implants.
The best part about All-on-4® is that with fewer implants and the angle at which they are placed, we are able to secure new set of dentures the very same day your implants are placed. Usually a healing period of a few months is required for standard implants, but with the All-on-4 system, the implants and the arch support and stabilize each other, allowing for ideal healing and integration.
Come see us!
Your smile is one of your greatest assets. Invest in the best tooth replacement technology available with dental implants. Your Cedar Park implant dentists, Dr. Max Kerr, Dr. Brandon Hedgecock, and Dr. Supriya Patel are proud to be able to surgically place and restore implants right here in house at Vista Ridge Family Dentistry.
Give us a call today at (512) 253-8840 or schedule an appointment online!